INKNOWVATION – Key Note: Tricia Coosal -Small Business Fridays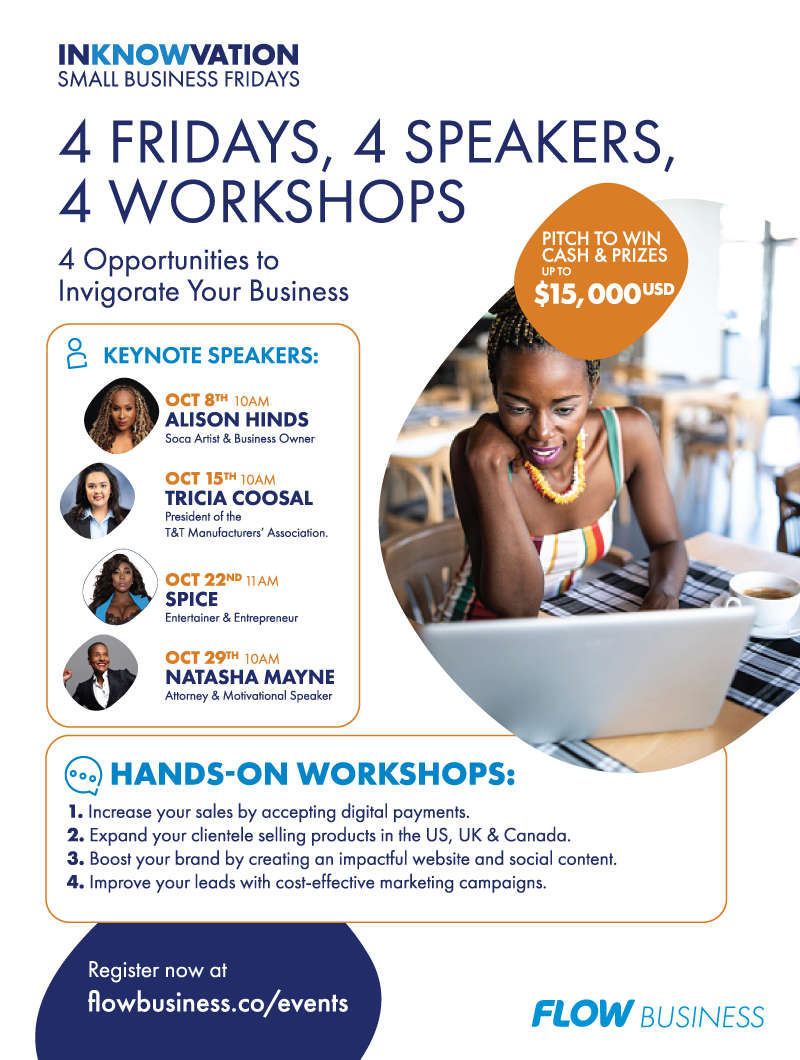 When:
October 15, 2021 @ 10:00 am – 12:00 pm
2021-10-15T10:00:00-04:00
2021-10-15T12:00:00-04:00
Contact:
Flow Business BTC Business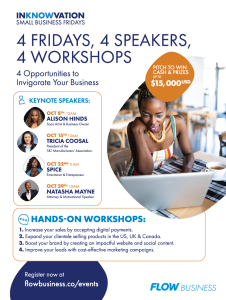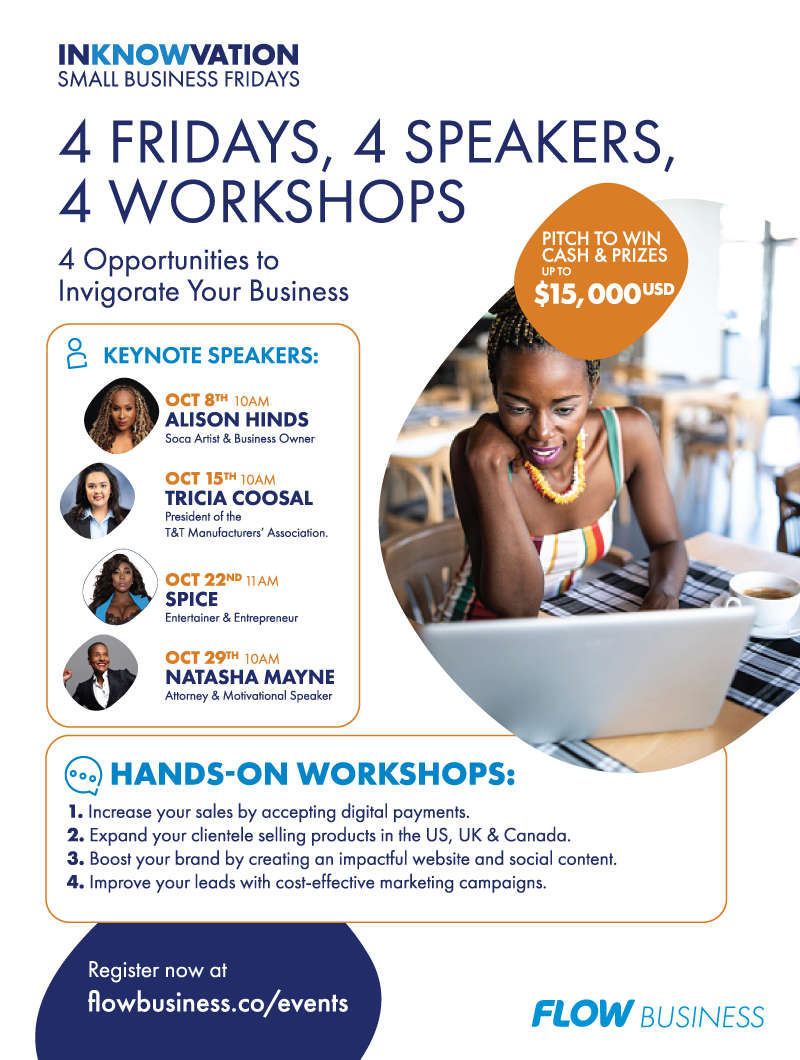 REGISTRATION IS FREE
KEY NOTE SPEAKER:
Tricia Coosal
President of the Trinidad & Tobago Manufacturers Association (TTMA)
As the 65th President of the Trinidad and Tobago Manufacturers Association (TTMA), Tricia Coosal spearheads the effort to create an enabling environment that facilitates trade and growth, allowing for small businesses to prosper. She is an Executive Director of Finance and Administration at the Coosal's Group of Companies, holds a Bachelor of Business Administration with a minor in English, and a Master's in Business Administration.
BREAKOUT SESSIONS:
USING DIGITAL PAYMENTS TO GROW YOUR BUSINESS
Christabelle Brown
General Manager, Wipay
Join Christabelle Brown, General Manager at Wipay, the Caribbean-based online payment processing company, as she facilitates a workshop focused on digital payments – and how you as a small business owner can use digital payments platforms to provide a new stream of revenue for your business. Starting with the basics, you'll leave this workshop with the practical next steps you can take to grow.
EXPANDING YOUR REACH THROUGH AN ONLINE MARKETPLACE
Kadion Preston
CEO, Caribshopper
Kadion Preston, CEO of Caribshopper – an online shopping destination that provides small and medium sized businesses across the Caribbean with direct-to-consumer sales – faciliates this workshop on how business owners can use online marketplaces such as Caribshopper to bring their products and services to a whole new audience. You'll leave this workshop ready to diversify your sales channels through an online marketplace.
USING YOUR WEBSITE, SOCIAL MEDIA AND CONTENT TO SHOWCASE YOUR BUSINESS
Hannah Swift
Country Manager, Virgin Atlantic
Hannah Swift, Country Manager at Virgin Atlantic joins us at Inknowvation: Small Business Fridays to share her best practices for showcasing your business through digital channels – including your website, your social media and content. This interactive session will cover the basics of telling your story online, and how digital channels and content can act as your online storefront, helping you engage both new and returning customers
MARKETING ON A DIME: CREATING COST-EFFECTIVE MARKETING CAMPAIGNS
Keron Rose
Digital Marketing Expert
Trinidad-based digital marketing expert, Keron Rose, facilitates this workshop on creating digital marketing campaigns that are not only effective – but cost-effective, too. Keron shares his online expertise as we cover Digital Marketing 101 – including how with minimal investment, you can use platforms like Facebook Ads to target your message so it reaches your ideal audience. You'll leave this session confident to take your first steps in digital marketing campaigns.
Upcoming Events
Mar
23
Wed
7:00 am
Expocomer – International Trade ...

@ Panama Convention Center
Expocomer – International Trade ...
@ Panama Convention Center
Mar 23 @ 7:00 am – Mar 26 @ 8:00 am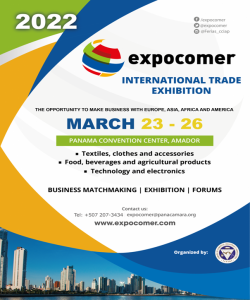 Learn more about the Expocomer here Register as a visitor/buyer here