Development in the payment landscape in St. Maarten
Development in the payment landscape in St. Maarten
Speaker: Ms. Raquel Lo Fo Wong and Mr. Glensher Maduro
Company: Cenrtrale Bank van Curacao en St. Maarten
Date: Sep. 30, 2021
Time: 19:00 – 20:00 PM
Webinar Information:
Ms. Raquel Lo Fo Wong is the Director of the St. Maarten office of the Centrale Bank van Curacao en St. Maarten (CBCS) with extensive experience in the banking and insurance industry which is beneficial to the implementation of the new strategic objectives of the Centrale bank, such as continued innovation in payment systems. 
Mr. Glensher Maduro is the Head of the Payments Department of the CBCS and responsible for the operation of the national payments systems and currently leading the implementation of the next generation of payments technologies.
They will be sharing on new trends in digital payments and measures that will be taken to ensure smoother transactions between banks, merchant, government and consumers.
His presentation covers:
An introduction to blockchain and cryptocurrency
A guide on getting started with trading cryptocurrencies
Stablecoins and their role and potential impact.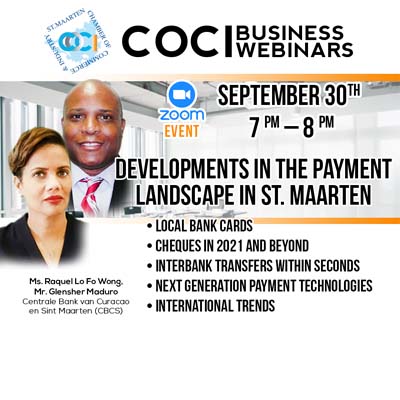 Did you miss the Webinar? Watch the video below