Webinar Registration Form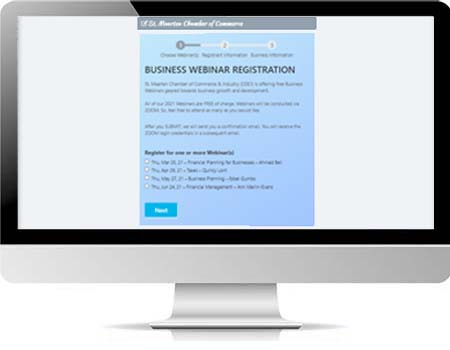 Check out all our Webinar(s) here
Register for our free webinar(s)and receive zoom code
St. Maarten Chamber of Commerce & Industry (COCI) is offering free Business Webinars geared towards business growth and development. These webinars are for:
The St. Maarten Business Community
Entrepreneurs
Starters
Business enthusiasts
The general public
All of our 2021 Webinars are FREE of charge. Webinars will be conducted via ZOOM. So, feel free to attend as many as you would like. In return, the Chamber is kindly asking that you register for the webinar(s) you are interested in attending. This way the Chamber will be able to track the attendance of all webinar attendees. The data collected is private, and will not be shared with third parties. The collected data will help the Chamber to better cater to the needs of our attendees by providing topics most interesting to the our attendees.
The registration will take less than 3 minutes of your time. You will receive a confirmation email once you submit your registration form.
We THANK YOU for your cooperation, attendance, and continuous support!